About the MSW Program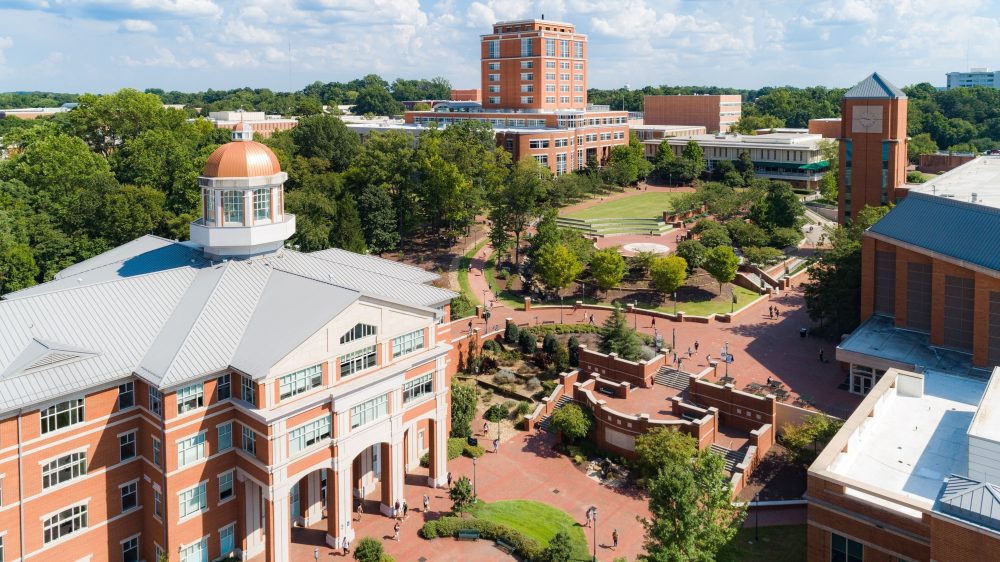 Overview
UNC Charlotte's nationally-ranked Master of Social Work program prepares students to be social work professionals and leaders in areas of culturally-informed, community-engaged practice, policy and research. Our students receive a well-rounded social work education and are able to tailor their study through electives and practicum experiences. We emphasize social justice through our curriculum and intervening at all levels of society. Our location in Charlotte offers both urban and rural opportunities for learning in the field.
While we don't require a background or undergraduate degree in social work (except for Advanced Standing), applicants who have experience in the human services field are favored. Our graduates have gone to pursue careers in schools, hospitals, hospice and home health care agencies, health and social services departments, trauma centers, shelters, domestic violence centers, and much more. Graduates are also qualified to pursue state licensure or certification.
Learn more about our Traditional (1-Year Advanced Standing and 2-Year) and Distance Education (2-Year Advanced Standing and 3-Year) options.
Why Choose Our Program?
Faculty: Our faculty have a reputation for being accessible, inclusive, and invested in student success.
Students: Our students demonstrate an appreciation for diversity and a commitment to social justice.
Community Engagement: We maintain partnerships with over 200 urban and rural practicum placement agencies serving vulnerable populations in the Charlotte region. Practicum instructors and faculty work together to ensure that students gain the knowledge and build the skills they need to be competent practitioners. Research faculty and students are also engaged in community-based research projects.
Careers: We have a positive reputation in the community. Alumni can be found all over the region engaging in direct practice and leadership roles.
Location: UNC Charlotte, North Carolina's urban research university, is located in a vibrant city with performing arts, festivals, sporting events, and outdoor recreation.
Student Testimonials
"I am so grateful for the 3 year program and UNC Charlotte. It allowed me to work full time while obtaining a quality education. It has also prepared me for my future as a social worker through the numerous challenges my cohort faced. I will be forever grateful to be a UNC Charlotte graduate!" -Rae F., MSW Class of 2020
"The best thing that I have learned and will take away from the MSW program is the confidence I have in myself and my own social work practice which is something I have developed throughout this program. Every experience I have had has taught me to practice what I believe in, learn from the mistakes I make, and apply that new knowledge to future work with clients. I have enjoyed this program immensely and cherish the friendships and connections I have made throughout." –Jesslyn G., MSW Class of 2020
"I am thankful for my educational experience and the relationships I have gained during my graduate school journey. My professors were amazing and truly cared about their students. I have learned and grown tremendously while studying at UNC Charlotte. I look forward to embarking on my MSW career." –Markeeta B., MSW Class of 2020
Alumni Spotlights
Social Work Alumna awarded 49er Young Alumni Chapter's 10 Under Ten Awards & Highlighted by UNC Charlotte for Serving Sucess as Owner of Sabor Latin Street Grill
Social Work Alumna Named CEO of Charlotte Non-Profit Focused on HIV
Alumna honored by the City of Charlotte for being an extension of Dr. King's dream
Social Work Videos
For Social Work Month 2022 (March 2022), we interviewed 31 social work faculty, students, alumni, and community partners in 31 days. View our playlist to hear from these social workers!
Hands-On Learning Opportunities and Practical Experiences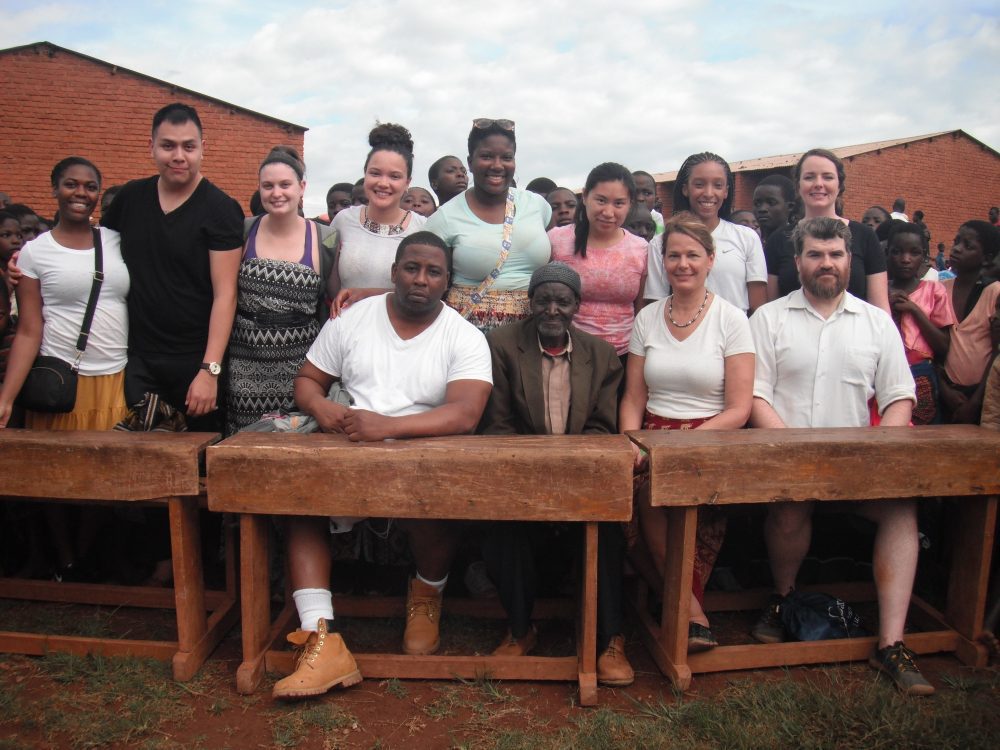 Our practicum placement is based on a model with classroom education and allows each student the opportunity to integrate knowledge and skills with actual practice in a human services agency. The foundation practicum experience provides the student with a broad range of generalist practice situations such as: interviewing, case-planning, shadowing professional staff, developing reports, attending policy meetings, conducting research, and participating in professional supervision. Field Education prepares students for what it is like to be a social worker.
Students are placed in an affiliated placement agency for 464 hours for the academic year. The practicum office works with students during the placement process to find an agency that matches student interests. The School of Social Work is partnered with nearly 200 urban and rural agencies serving vulnerable populations in the Charlotte region.
1-Year Advanced Standing students are placed during the fall and spring semester.
2-Year traditional students have a placement during the fall and spring semester of both years.
2-Year Advanced Standing Distance Education students are placed during the fall and spring semester of year two.
3-Year Distance Education students have a placement during the fall and spring semester of years two and three.
Learn more about practicum education
Faculty Excellence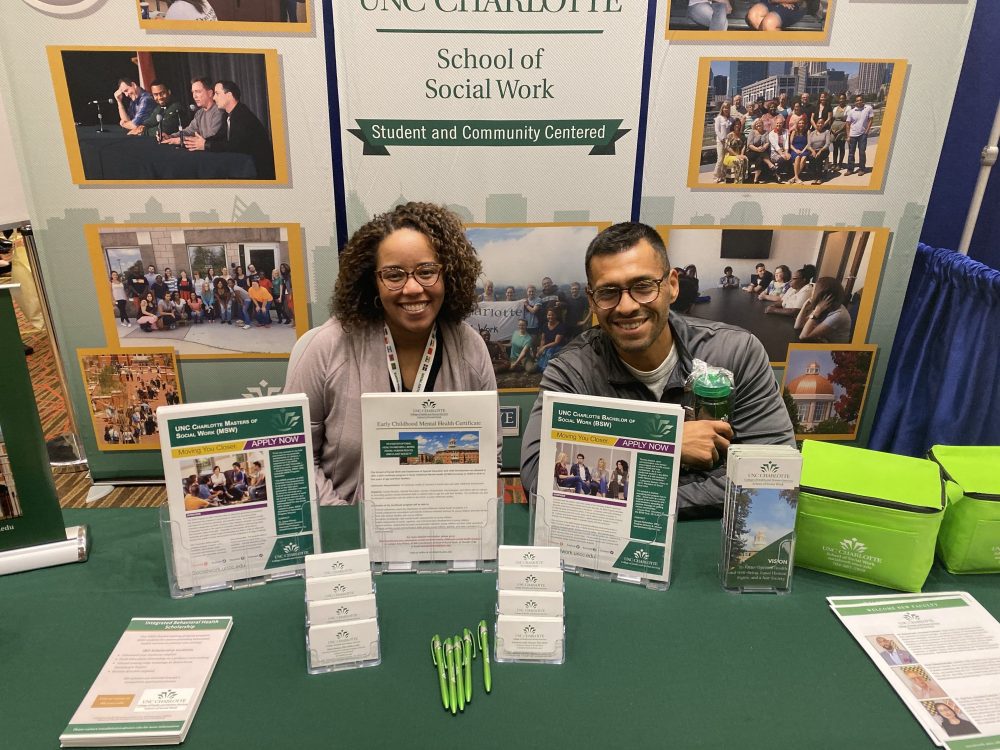 Our faculty are experts in the field of social work, with many different research interests and areas of expertise including mental health, racial institutional inequity, trauma, public health, substance abuse, gerontology, social justice, youth development, grief and loss, social work with HIV and AIDS, and much more. Our faculty present research at conferences nationwide, such as the Council on Social Work Education (CSWE) and Society for Social Work Research (SSWR).
Our faculty have a reputation for being accessible, inclusive, and invested in student success, with some faculty working with students on research projects and publications. Faculty have also been recognized for their teaching, research, and community service as recipients of several awards including Faculty Excellence Awards within the College of Health and Human Services, NASW recognition, and other university or community awards for service.
MSW Recruitment Events & Information Sessions
Learn about financial aid options
For information about our MSW Program, please contact our Admissions Team at sswadmissions@uncc.edu.